Islam
Muslim Chaplain - Sh. Aarij Anwer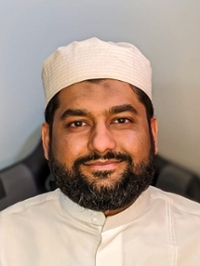 Sh. Aarij Anwer was born in Karachi, Pakistan and grew up in the Greater Toronto Area. Along with his duties as Muslim Chaplain at Western, he serves as the Director of Religious Affairs at the London Mosque. He holds a Bachelor of Computer Science (Waterloo), Bachelor of Education (Toronto) and Bachelor of Islamic Sciences in Islamic Jurisprudence (Al-Madinah International University, Malaysia).
His unique educational background allows Sh. Aarij to connect uniquely and deeply with the students on campus. He teaches weekly classes on understanding the Qur'an and provides spiritual care to the students. He can be contacted at: manwer4@uwo.ca.
The Muslim Prayer Room is located in University Community Centre, Room 38A.
Note: Sh is short for Shaikh, a title analogous to Father in the Christian tradition.